Advertisement Feature
Choosing Fibre Cement Cladding for Your Project
By Sponsored Content published
Hardwearing and versatile, fibre cement cladding is a great option for self-build and extension projects of all shapes and sizes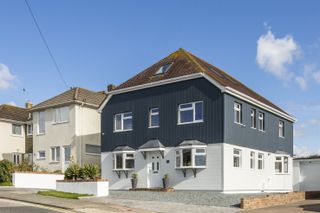 (Image credit: James Hardie)
Content supplied by James Hardie
Fibre cement cladding is a long-lasting and durable choice of cladding material. Usually available in a wide range of colours and finishes, this man-made option is a great alternative to natural timber and hung slate tiles.
Both budget and eco friendly, choosing fibre cement cladding for a self-build or extension project offers flexibility and efficiency to help achieve the perfect home aesthetic.
A Low-maintenance Choice Which Offers Durability
Beautiful and Durable
The HardiePlank® VL weatherboard from JamesHardie® has a predicted lifespan of 60 years and comes with a 15 year warranty.
Fibre cement cladding was initially created as an realistic substitute for timber, offering a similar, characterful look but with fewer demands on upkeep.
The aches and pains of re-fixing and repainting other cladding options is much reduced and fibre cement products are not only frequently fire, weather and pest resistant, but also resilient to age-related defects such as warping, scuffs and chips.
Versatile Cladding for Any Project
Whether it's a contemporary extension to a period home or a traditional-inspired self-build, fibre cement cladding is available in both natural, rustic looks and smooth and sleek finishes.
Fibre Cement Cladding is Quick to Install
Cladding should be the cherry on top of a project where the exterior elements come together, rather than a headache to fit and organise.
While heavier than natural timber cladding, fibre cement is generally a light material, making it easy and speedy to install.
The neat edges as a result of the manufacturing process also means panels are simple for contractors to fit together, and can in some instances be installed by an experienced DIYer.
Expressing Personality onto a Bespoke Home
Fibre cement cladding is available in a whole host of different colours and finishes so homeowners can match their home to their personal tastes.
As a result of it's pliable nature during manufacturing, panels, planks and tiles can be formed to any size (although larger products could require more time to install) and are painted or stained in the factory for a long-lasting and vibrant colour.
For more information on the HardiePlank® product family visit the James Hardie (opens in new tab)website and to make an enquiry, email info@jameshardie.co.uk.
Homebuilding & Renovating Newsletter
Get the latest news, reviews and product advice straight to your inbox.
Thank you for signing up to Homebuilding. You will receive a verification email shortly.
There was a problem. Please refresh the page and try again.