Advertisement Feature
Be Wiser With Your Heating This Winter
By Sponsored Content published
Many of us will be thinking about how to stay warm and cosy this winter, while keeping our energy bills under control. Here are four ways smart heating with room-to-room control can help you save energy and money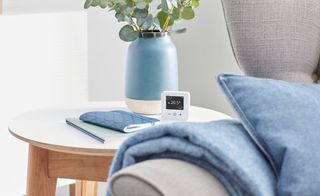 (Image credit: Drayton by Schneider Electric)
CONTENT SUPPLIED BY DRAYTON CONTROLS (opens in new tab)
Many of us will be thinking about how to stay warm and cosy this winter, while keeping our energy bills under control. Here are four ways smart heating with room-to-room control can help you save energy and money.
Take Control
Controlling your heating room-to-room (opens in new tab) means you only heat the rooms you're using, plus you can set individual room temperatures to suit different areas of your home. This means you can heat the living room to a comfortable 20°C in the evening, when you're relaxing in front of the TV, and set the bedrooms to a cooler 18°C overnight for sleeping. This stops you wasting energy by heating empty rooms; in fact, estimates suggest that room-to-room control can reduce your energy bills by up to 20%, compared to a smart thermostat alone.
Control On The Go
The Latest Innovation
Wiser is the latest innovation from trusted British heating experts Drayton, by Schneider Electric. It allows you to create up to 16 individual heating zones using smart radiator thermostats, all controlled via a handy app and smart voice assistants including Amazon Alexa and the Google Assistant.
Smart heating gives you control of your heating from your phone, which means you can adapt your heating schedules from wherever you are, as your plans change. So, if you're delayed at work or go on a spontaneous evening out, you can use an app to adjust your heating 'on time', which means you're not using energy heating an empty home. This real-time flexibility means your heating schedules can be changed just as swiftly as your plans.
Home And Away
It's easy to head out to work or go on holiday and leave the heating on, but this can mean your empty home is being heated for hours (and sometimes days). This can all add up when it comes to your energy bills. With smart heating, you can activate Away Mode on your phone from the office or airport to lower your heating to a set temperature of your choice. Look out for integration with IFTTT which means this smart mode can be triggered automatically when the last family member leaves the house, so your home doesn't overheat when you're all out.
Learn To Save
Smart heating systems also offer special energy-saving modes (opens in new tab). Features like Eco Mode learn how well your home retains heat and how quickly it reacts to changes in the outside temperature. The system will then calculate whether your heating can be turned off sooner while still maintaining the same temperature, to help reduce your energy use and save you money.
Last year, Marc Nardini won a Wiser by Drayton smart heating system. Here, he explains how the system has benefitted his family:
"We had Wiser fitted just before the start of winter and our energy consumption dropped considerably, saving about 15-20% on our gas bill. The thermostats and our ability to independently control different rooms was the main reason for saving on energy costs, particularly in the older part of the house which is the heart of our home and was susceptible to draughts.
"The system has been a breeze and having 24/7 control from your phone makes it so user-friendly; I wouldn't go back to anything else now. It's allowed us to make our house comfortable at all times and we love being able to control individual rooms to suit our family's needs, particularly upstairs in our young children's bedrooms."
For more information, visit the website (opens in new tab) or follow @DraytonHome (opens in new tab) on Twitter.
Homebuilding & Renovating Newsletter
Get the latest news, reviews and product advice straight to your inbox.
Thank you for signing up to Homebuilding. You will receive a verification email shortly.
There was a problem. Please refresh the page and try again.