Advertisement Feature
7 Inspiring Ways to Find Ideas for Your Project
By Sponsored Content published
Inspiration is all around when it comes to ideas for your home, you just need to know where to look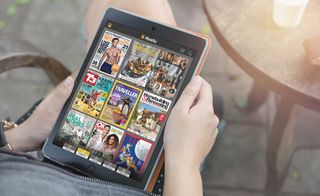 (Image credit: Readly)
CONTENT SUPPLIED BY READLY (opens in new tab)
When it comes to making changes to your existing home, or deciding to build a new one, you're going to need some great inspiration (and to do copious amounts of research) before you can get started.
More than that, you will need to have a clear idea of what you want to achieve before you retain the services of an architect or interior designer.
Here are seven places that you can find inspiration for your home.
1. TV Shows
Faced with an array of highly stylish television show sets featuring impeccable interiors, it's hard to ignore the effect that television can have on our home decor choices. Shows like Mad Men with its Mid Century Modern style, Killing Eve with the Parisian chic, and the eclectic nature of Monica's apartment in Friends are great examples of style that is relatively easy to translate to your own home through a well-chosen accessory, paint colour or item of furniture.
2. Nature
Looking at nature is a really good way to generate some inspiration for your own home. For example, if you feel a serene sense of calm when walking through a forest, then it is well worth considering decorating with earthy greens and greys and neutral browns to help recreate the feeling in the areas of your home that are intended for relaxation.
Nature can also provide inspiration when it comes to colour palette, texture, pattern and artwork, so start by creating a moodboard to see all your ideas in one place.
3. Magazines
Useful Tip
Before buying a large item of furniture like a sofa, dining table or bed, make a note of its dimensions. Then, in the room for which that item is intended, mark out those dimensions on the floor/walls using masking tape to get a sense of how that item will feel in the room.
Practice moving around as if that furniture was in place – can you move around freely? Will you still be able to open doors, cupboards and windows effectively? This is the best way to really experience how that item will fit in your home before you make your final purchase decision.
There is a wealth of homes magazines available that are great sources of inspiration. They will highlight trends, new products and finishes as well as style tips and practical how-tos to help you bring your dream home to life. Stock up and cut out or save images or articles onto a moodboard.
If you want to immerse yourself in homes ideas, consider a subscription service like Readly where you can access all of the latest issues of your favourite homes titles, including Homebuilding & Renovating, Real Homes and Period Living. Issues can be downloaded so you can read offline, you can have up to five profiles linked to one account and you can cancel at anytime.
4. Hotels and Spas
Hotels and spas (as well as bars and restaurants and National Trust properties) can be really inspiring when it comes to decor ideas for bedrooms, bathrooms and kitchens. You might find bathroom tiles, bedlinen or kitchen storage ideas that you just can't live without and it can often be inexpensive to recreate a similar style in your own home.
5. Social Media
Pinterest and Instagram in particular are flooded with inspirational ideas for your home. The images are often highly stylised, but can give you great ideas for colour combinations or practical uses for underused spaces. If you are on a budget or want to take on some DIY, then it is definitely worth looking on YouTube for advice from people who have done similar projects.
6. Room Sets
Plenty of high street stores set up room sets in their home departments so you can get a sense of how items can work together in a room set up rather than viewing products in isolation. This can be incredibly useful if you struggle to imagine how certain items will look in your home. Visiting the showrooms also means you can touch the fabric and test out the items from a functional point of view before committing to a purchase.
7. Fashion
Unlimited Magazines
Enjoy unlimited magazines with Readly (opens in new tab) and read more of what you love. With more than 4000 magazines on the platform, you can download and read offline and share the app on up to five devices for unlimited access of all your favourite magazines.
Clothing trends can influence home interior trends, especially when it comes to colour – but do remember that trends are transitory and will change frequently. If you are shy about colour, keep the main colour palette of your home neutral and use soft furnishings to inject pops of trendy, fashion-inspired colour into your home.
Homebuilding & Renovating Newsletter
Get the latest news, reviews and product advice straight to your inbox.
Thank you for signing up to Homebuilding. You will receive a verification email shortly.
There was a problem. Please refresh the page and try again.