Advertisement Feature
5 Easy Jobs to Get Your Home Ready for the Festive Season
By Sponsored Content published
With Christmas just around the corner it is time to turn your attention to getting your home spruced up for the celebrations (even if they might be on a smaller scale than usual…) We take you through the top DIY tasks you can tackle to ensure your home sparkles this winter.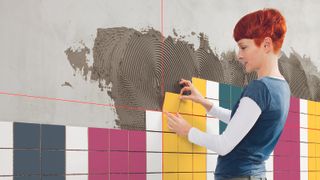 (Image credit: Bosch Home & Garden)
Content supplied by Bosch Home & Garden
1. Dress Those Windows
Beautiful window dressings, such as curtains and blinds, can immediately cosy up any space and are a must as the nights draw in.
If your existing curtains are in need of replacement or blinds might work better in their place, now is the perfect time to take action.
You should still have time to order new curtains and blinds before Christmas.
Once you have chosen your new dressings you should be able to hang them easily — use a good laser line tool, such as the Bosch Quigo, to ensure your curtain rod or the head rail for your blinds is level or you risk ruining the whole look. The Quigo can easily attach to shelves and staircases.
2. Freshen up Paintwork
If there is just one job that can instantly smarten and brighten up interiors it has to be a paintwork refresh. This doesn't necessarily need to mean a whole-house repaint either. Think about the rooms you spend most of your time in and assess whether the colour is working in there or whether a new lick of paint is required to give grubby walls a new lease of life.
Don't forget to check skirtings, door and window architraves and window sills too — a quick coat of fresh paint to these areas of woodwork can totally transform a space.
3. Decorate Your Home with Artwork
Bare walls leave a house lacking in character — artwork and photographs really have the power to add personality and instantly turn a room into somewhere that feels warm and lived in.
Whether you are someone who enjoys displaying treasured memories of family holidays and events or prefer a certain style of artwork, consider how best to group your display of pictures before securing them to the wall.
As a guide, hanging pictures at eye level, so that the midpoint is 57-60 inches above floor level, is a safe bet. If hanging several pictures, hang your largest one first and work around it.
And, finally, whatever you do and whatever final arrangement you opt for, ensure the artwork is hung level.
4. Put up Shelves
Been meaning to put up some shelves for ages? Now is the time - where else are you going to display all those Christmas cards or artfully place your pine tree scented candles and sparkly ornaments?
Use alcoves for fitting floating shelves if you are worried about your new shelving eating into the available room space or go high level above doorways. Alternatively, several cube shelves or geometrical units grouped together can look really striking — just be sure to hang all your new shelves straight or else those ornaments may end up in the hoover bag…
5. Spruce up the Bathroom
Got guests coming to stay for Christmas? Get your bathroom visitor ready. Could that old mirror do with replacing? Does the bath or basin surround need retiling or would new cabinets make all the difference to the amount of clutter on show? Assess the space's needs and address them now to ensure your guests find spa like zen in your bathroom.
Hooks behind the bathroom door easily hide dressing gowns from display and are a brilliant way of conserving space.
Don't forget to attend to the finer details in the Christmas countdown rush though — use the right products and tools for the job.
The Bosch Quigo (opens in new tab) cross-line laser tool from Bosch Home & Garden makes any DIY job a doddle. It is easy-to-use and handle thanks to its one-slider mechanism, self-levelling feature, projects both horizontal and vertical laser lines simultaneously (as well as being capable of projecting perfect diagonal lines) and even works on uneven surfaces. The universal clamp MM2 and adapter plate makes the Bosch Quigo easy and versatile to use no matter what the task. RRP: £79.99.
When it comes to levelling the Bosch Atino helps you complete alignments and distance measurements all in one. You can attach the tool to any wall with its reusable gel pad or, for rougher walls, a pin adapter plate. Once done, simply switch on the line laser and rotate the tool to your desired alignment angle, then use the integrated tape measure to plot distances up to 1.5 metres. RRP: £49.99 (tool, 1 gel pad, pin plate with 2 pins and battery); or set £61.74 (tool, 6 gel pads, pin plate with 2 pins and battery)
After more project inspiration and practical DIY advice? Head over to the Bosch All About DIY Magazine.
Homebuilding & Renovating Newsletter
Get the latest news, reviews and product advice straight to your inbox.
Thank you for signing up to Homebuilding. You will receive a verification email shortly.
There was a problem. Please refresh the page and try again.