Advertisement Feature
3 Times You'll Need a Structural Engineer for Your Project
By Sponsored Content published
Think you don't need a structural engineer on your project team? If you're building, extending or renovating your home, you might need to think again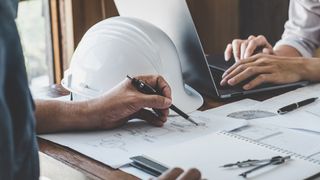 (Image credit: stock.adobe.com)
Content supplied by the Institution of Structural Engineers
Whether you are planning to build your dream home from scratch, remodel or extend your existing home so it better suits your needs, or restore an older home it to its former glory, you should talk to a structural engineer to make sure that you have the right information at the right time to enable your project to progress as smoothly as possible.
Structural engineers are a vital part of the building process and getting a structural engineer involved as early as possible is key. They may be able to propose alternative solutions which could save you money in the long term.
Structural engineers provide a variety of services including undertaking structural surveys which can help to identify faults or provide information to enable contractors to undertake building work correctly in a safe manner.
If you find yourself in one of the situations below, make sure you add a structural engineer to your project team.
1. When Building Your Own Home
If you plan on building your own home from scratch, then it pays to engage a structural engineer (who will work closely with your architect or designer) from the design stage. Your designer may even recommend structural engineers that they have worked with before who are familiar with your construction system of choice.
A structural engineer will not only help to ensure that your proposed design is structurally sound by advising on everything from the foundations to the beams and rafters you will need for your roof. Their input is essential in creating the detailed technical plans your contractor will need to break ground.
2. When Extending or Remodelling Your Home
A structural engineer can undertake many different types of survey to assess the existing structure of your home, which is invaluable when it comes to creating the technical drawings required before construction can begin. If you plan on knocking down internal walls, your structural engineer can provide structural calculations to ensure the project runs smoothly and safely, without damaging the existing structure.
3. When Buying a Period Home or Renovation Project
Older homes tend to need a little TLC and so make popular choices for renovators looking for a do-er upper. But it can be difficult to assess the true condition of a renovation opportunity and identify potential serious structural concerns or what may just be a superficial problem that is easily and inexpensively resolved.
If you are purchasing a renovation project, a Home Buyer's Report will identify any defects that need to be resolved. But you will need a structural engineer if you want to identify the cause of the defect and understand the remedial action required.
If you're planning on renovating a period property, getting a full structural survey from a structural engineer can help to identify any significant overall movement, settlement, possible subsidence, that might affect the feasibility of your renovation plans.
To help you find a trusted professional structural engineering practice, The Institution of Structural Engineers has a database of practices with professionally-qualified structural engineers in your area.
Only structural engineering practices with a professionally qualified IStructE Member can join the 'Find a structural engineer near me' scheme. Membership is respected around the world as a marker of professional and technical excellence.
The system is easy to use and provides clear, concise information on each structural engineering practice.
The scheme has good coverage and more structural engineering practices are joining all the time.
Best of all, searches are completely free for home builders and renovators.
Search the database now (opens in new tab).
Homebuilding & Renovating Newsletter
Get the latest news, reviews and product advice straight to your inbox.
Thank you for signing up to Homebuilding. You will receive a verification email shortly.
There was a problem. Please refresh the page and try again.