The Incredible Story of the 'Mole Man' Who Dug Tunnels Under His House
By Jack Woodfield published
William Lyttle created a London underground of sorts below his home, and his legacy lives on today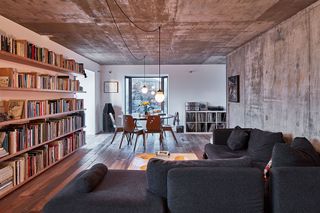 (Image credit: Ed Reeve/Adjaye Associates)
We all have that neighbour who starts drilling at 7am on a Saturday morning, but for decades in the 1900s several Londoners had a neighbour who dug a series of interconnected tunnels under his house. Old Barry next door doesn't seem as bad now, does he?
William Lyttle, nicknamed the 'Mole Man' of Hackney, spent 40 years digging tunnels under his house at 121 Mortimer Road, which he reportedly inherited in the 1960s. It's not clear as to why he did it, but Lyttle was certainly committed: his tunnel network was as deep as 26 feet in areas, and stretched 65 feet in every direction from his house. He even had a full lever and pulley system in place to assist him.
Much to his neighbours' chagrin, Lyttle reportedly once killed the power for his entire street when he accidentally tapped into a 450-volt underground power line, and chagrin eventually turned to panic in 2001 when the pavements above the tunnels began to collapse. In 2006 Lyttle was evicted from the property due to safety concerns.
Hackney Council then set about filling the tunnels with concrete to ensure the structural integrity of the house and the street — by the time they were finished they had removed 33 tonnes of debris from the property.
Lyttle was rehoused in a flat, where he died in June 2010, aged 79. Following his death, Mole House, as it became known, was left abandoned until 2012 when it was sold at auction and renovated.
(MORE: Ultimate guide to renovating a house)
The Renovation of Mole House
Following Lyttle's death, artist Sue Webster bought Mole House in 2012 and spent five years renovating it into her home and art studio. And she made sure that the Mole Man's legacy would live on: paying homage to his work with subterranean rooms and multiple entrances.
Webster asked her friend and architect, David Adjaye of Adjaye Architects (opens in new tab) to renovate and design the house, which was redesigned from the roof to the basement below street level.
The basement where Lyttle began his burrowing was redesigned into Webster's studio, while the exterior was restored to its original bunker-like design.
Another major feature of the redesign was to allow more natural light into the property, courtesy of a large retractable skylight and high windows and doors that allow for sunlight to filter in.
Webster went to great lengths to preserve Lyttle's spirit, and her renovation is a triumph of creativity. But for Hackney residents, Mole House will likely always be remembered for the man whose antics brought notoriety to Mortimer Road, now a much quieter, but much safer place to live.
Jack has worked in journalism for 11 years and is the News Editor for Homebuilding & Renovating, a role he has had since 2019. He strives to break the most relevant and beneficial stories for self builders, extenders and renovators, including the latest news on the construction materials shortage and hydrogen heating. In 2021 he appeared on BBC's The World at One to discuss the government's planning reforms.
He enjoys testing new tools and gadgets, and having bought his first home in 2013, he has renovated every room and recently finished a garden renovation.
Homebuilding & Renovating Newsletter
Get the latest news, reviews and product advice straight to your inbox.
Thank you for signing up to Homebuilding. You will receive a verification email shortly.
There was a problem. Please refresh the page and try again.