Advertisement Feature
5 Ways to Enjoy Alfresco Cooking All Year Round
By Sponsored Content published
Think BBQ season is over? Think again. With the right barbeques and heating, outdoor cooking can now be an all-season pursuit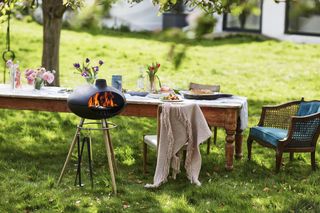 (Image credit: Morsø)
[Content provided by Morsø]
Barbecuing food is one of the joys of summer, but you'll notice that for those people who are obsessed with cooking this way, the barbeque isn't packed away just because we're coming to the end of warmer days. Of course, year round alfresco cooking is more common in parts of the world with more temperate climates, but with the right set-up, you'll find that firing up the grill in autumn and early spring becomes a much more attractive prospect.
Here are our top tips for making use of your outdoor cooking space for longer, using Morsø (opens in new tab)'s Outdoor Living range for inspiration.
1. Build an Outdoor Kitchen Under Cover
Outdoor kitchens are growing in popularity, and those which are built under cover, whether that's a porch, outbuilding or gazebo, offer better prospects for year round garden cooking. Not only will it help shield your grill from the elements and keep you dry when raining and sheltered from the wind when manning the barbeque, but it could even leave some room for some alfresco dining too.
2. Use a Wood-Burning Barbeque to Heat the Space
Be smart with your choice of barbeque and you could end up with a design that not only offers cooking, but also heats up your space too. Morsø's Kamino (opens in new tab), for example, is not just a striking outdoor fireplace design, but can be fitted with the Tuscan Grill to double up as a way to cook outside too.
3. Barbeque Outdoors, Eat Indoors
The secret to barbecuing when it gets colder outdoors is that you don't have to eat outside to cook outside. Grilling food is a great way to add distinct flavour and texture, but it's not something that everyone has in their indoor kitchen. To keep barbeque in your cooking repertoire year round, you could even invest in one of Morsø's smaller grills, such as the Balcone (opens in new tab) — a small scale electric grill designed to fit on a balcony with ease.
4. Adjust Your Menu Accordingly
The menu possibilities are endless when barbecuing, but making some adjustments to what you cook outside of the summer months may be a good idea. Quicker cooks such as more slender cuts of meat or vegetables mean less time tending the grill when the weather is less amenable, helping you avoid the temptation of leaving the barbeque unattended.
5. Consider a Barbeque With a Lid
Rain and wind shouldn't mean that you need to call off barbequing your dinner, but by choosing a barbeque with a lid or covered top, you'll be able to create a controlled environment for grilling in more adverse weather conditions and stop your sausages getting soggy. Try a barbeque such as the Forno Gas Grande (opens in new tab), Forno (opens in new tab) or Forno Grill (opens in new tab).
Homebuilding & Renovating Newsletter
Get the latest news, reviews and product advice straight to your inbox.
Thank you for signing up to Homebuilding. You will receive a verification email shortly.
There was a problem. Please refresh the page and try again.