Advertisement Feature
Why Natural Light is Important for Your Home Extension
By Sponsored Content published
Extending your home is a great way to add value and improve the flow of your home, but it's important that this new space doesn't leave your existing home in the dark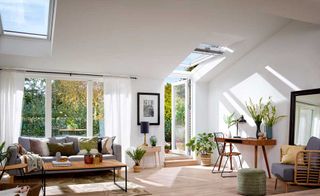 (Image credit: Velux)
CONTENT SUPPLIED BY VELUX (opens in new tab)
When it comes to thinking about your single-storey home extension, it's easy to imagine walls of glass bringing the outside in, maybe enjoying a coffee on the new terrace, or a family party in the new kitchen.
It's important to consider the relationship between these life moments and the design of your extension, but you will also need to consider the more practical elements of a build project like this, in particular how the extension will affect the ingress of natural light into the rest of your home.
Without considering natural light during the design stage, there's a real danger that by adding space you can actually degrade the space you already have.
Adding a single storey extension will undoubtedly give you more space, but will also move the exterior windows and doors further away from the room (or rooms) they originally bordered, making it harder for natural light to flood these spaces that are located deeper in the floorplan.
Bring in Light From Above
This is where roof windows are invaluable if you want to keep your existing space usable and light-filled. Roof windows can provide up to twice the light levels of a vertical window of the same size. Crucially, they can often be placed close to what would have been the old walls of your house, bringing precious light into the existing rooms where daylight levels will be affected by the addition.
Top Tip
Don't be tempted by symmetry and the allure of a neat plan and have roof windows central in the extension. This often puts them adjacent to windows and doors – not where daylight is needed. Always try to put them close to your light-starved space.
There are no hard and fast rules but always examine your plans in terms of light levels only, and just for a moment ignore everything else. If you can see issues during this simple exercise, then you need to re-examine your plan.
Once you have a functional design in terms of daylight try to introduce two or three roof windows to add drama and lift the architecture. After all, daylight to buildings is like ketchup to sausage sandwiches. It takes something everyday and makes it magic!
For more information about including roof windows in your design plans, contact VELUX (opens in new tab).
Homebuilding & Renovating Newsletter
Get the latest news, reviews and product advice straight to your inbox.
Thank you for signing up to Homebuilding. You will receive a verification email shortly.
There was a problem. Please refresh the page and try again.