The Importance of Soil Surveys
By Brent Ackerman published
Undertaking a soil survey before starting on site could save you thousands in the long run, says Project Manager for Potton's Passivhaus build, Brent Ackerman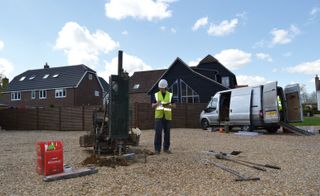 (Image credit: c/o Potton)
Before buying a plot, a soil investigation and survey is a good idea to assess the type of foundation likely to be necessary for your new build. A soil survey can provide you with detailed insight into the characteristics of the ground on your plot, and determine the quality of the earth and highlight any anomalies in the ground conditions which you may need to consider before progressing to groundworks stage.
When I talk to self builders about budgeting, one of the biggest 'grey areas' is the foundations. I usually advise that a ground investigation should be carried out which includes a soil survey. From the results of this survey a foundation can be engineer-designed that is the most economical for the site.
Is a soil survey really necessary?
Is it necessary to carry out a soil survey — 'why don't you just start digging?' you may ask. While it isn't absolutely necessary, when you are planning your budget the last thing you want is nasty surprises, and there can be many lurking beneath the soil. For an outlay of £1,000-£2,000 it can be money well spent to avoid the unforeseen when on site.
If there are problems with the site these may come to light when a survey is conducted. Technical issues such as poor soil composition or poor drainage are all things that would add costs to your build budget and you should be aware of these upfront.
Ideally this sort of information should be available before you purchase the plot, but sadly this isn't often the case. So, unless you want to allow a lot more in your contingency you should get a survey done as soon as possible. It may just save you a lot of money in the long run.
How is the survey undertaken?
A soil survey should be carried out by a suitably qualified consultant or company. Typically both the top soil and subsoil are investigated, which determines soil material, pH levels, particle size and potential contamination.
Typically some trial holes are dug in the presence of the engineer so that they can take photos and notes of what they see, and also take soil samples for analysis. Holes (which can be up to 3m deep) are then filled in following the survey. Another way is to take some samples using an auger rig and there are plenty of companies around who can do that for you.
How much does it cost?
The cost of a soil investigation depends on the size of the project and whether there are planning conditions to be satisfied. A desktop study of a site could cost around £600 plus VAT. A basic soil investigation costs around £1,500 plus VAT, scaling up from there depending on the size and complexity of the project.
Homebuilding & Renovating Newsletter
Get the latest news, reviews and product advice straight to your inbox.
Thank you for signing up to Homebuilding. You will receive a verification email shortly.
There was a problem. Please refresh the page and try again.