Advertisement Feature
How Stone Wool Insulation Can Add Long-Term Value to Your Home
By Sponsored Content published
Around 60% of self-builders overspend when embarking on a self-build project*, therefore it is important to really think about your spend priorities and the impact they will have on your finished home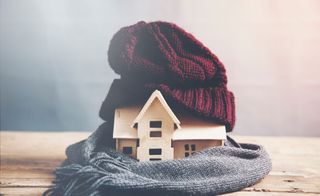 (Image credit: c/o Rockwell)
CONTENT SUPPLIED BY ROCKWOOL
When it comes to building your own home, being budget conscious and controlling costs is a given, but there are areas of the build where making the right investment in materials will pay dividends in the future.
Insulation is one of the most underrated materials in the construction of a quality home, and not all insulation is the same. Your choice of insulation is a defining factor in making your home a place you want to relax and enjoy the fruits of your labour – whilst also helping the property to hold its resale value.
Benefits of Stone Wool Insulation
One of the highest performing and sustainable insulation materials on the market, stone wool insulation is the first choice when comfort and quality are a priority.
Spun into wool from volcanic rock, stone wool comes from a naturally abundant material with proven thermal, acoustic and fire safety benefits that bring real value to the home environment.
Regulating Temperature
Most people think of insulation for the winter benefits, but a good quality insulation is also essential in regulating the temperature during the summer.
Its excellent insulating properties come from tiny pockets of air trapped within the physical structure of the stone wool which allows it to achieve thermal conductivity (Lambda values) of between 0.044 W/mK and 0.034 W/mK. The unique structure of the stone wool will keep your home snug and warm during winter months and cool during the summer.
Acoustic Performance
The acoustics of a home are increasingly considered as a quality mark of the build. Stone wool insulation has excellent sound absorption properties due to its open porous structure which acts as a barrier to sound waves travelling through it. Fundamentally, choosing quality stone wool insulation will keep your new home calm and quiet.
Reduction in Energy Consumption
All-Round Solution
ROCKWOOL stone wool insulation is a robust all-round solution, available in a range of formats to suit many applications. By choosing quality stone wool insulation you can be confident that you are using a sustainable and high-performance material that will allow you to live in ultimate comfort for a lifetime.
The way in which stone wool helps to regulate the temperature of the home can reduce your energy consumption by between 50 and 70%. During its lifetime, a typical quality stone wool product could save more than 100 times the primary energy and CO2 used to produce it. Paying a bit more for a good quality insulation initially can save you money on your bills in the long term, lessening the pain of the rising costs of energy – it could even increase the future value of your home.
Safety
Making sacrifices on cost may mean that you're compromising on safety. By using stone wool insulation, you can rest assured that you have chosen a building regulation compliant material that is completely non-combustible (opens in new tab).
Added Value
Seven Strengths
For more information about the benefits of using stone wool insulation in your self build project, take a look at the ROCKWOOL seven strengths of stone.
When creating your dream home, it can be beneficial to think further ahead, beyond you living in it. Using quality stone wool insulation will increase the long-term value of your home if you come to putting it on the market and stand the test of time in providing a safe and comfortable space for future occupants.
*Homebuilding & Renovating Self & Custom Build Market Report 2017.
Homebuilding & Renovating Newsletter
Get the latest news, reviews and product advice straight to your inbox.
Thank you for signing up to Homebuilding. You will receive a verification email shortly.
There was a problem. Please refresh the page and try again.