Advertisement Feature
Do I Need a Contract for my Building Project?
By Sponsored Content published
A contract might not be a legal requirement before you start your home improvement, but you'll be thankful for it should difficulties arise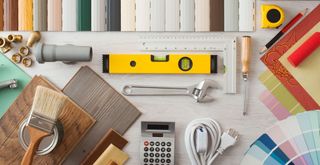 (Image credit: stock.adobe.com)
Content supplied by JCT Home Contracts
Taking on a significant home improvement or building project can be an exciting time, but it's also an expensive one. With so many trades involved at different times, it's important to make sure everyone knows what's expected, not just in terms of the scope and quality of work, but also costs and payment terms. This is where a contract can prove incredibly useful.
While it isn't a legal requirement to use a contract, you'll definitely be glad you did should something go wrong.
Here are three essential reasons you should have a contract for your building project.
1. Protect Your Investment
Using a contract is the best way to protect your investment. Whether you are renovating your home, adding an extension or converting your loft, a contract will prevent you from being lumbered with unexpected costs should things go wrong through no fault of your own.
2. Legal Peace of Mind
A contract provides legal peace of mind to all involved and should make clear the expectations and responsibilities of both parties. But you don't necessarily need to pay a solicitor to draw up the contract for you.
Contracts like the homeowner contracts offered by JCT are easy to understand, avoid complicated legal jargon and are recognised and respected in the building industry. They can be purchased online and downloaded instantly.
3. Detailing the Project
Especially useful if you are planning to act as your own project manager, you can use a contract to detail the scope and quality of work expected as well as work and payment schedules. It can also be helpful to include contingency plans in the contract - that way if any difficulties do arise, you've already agreed who should be responsible in resolving the issue.
What Should the Contract Cover?
the work to be done
the price and payment schedule
duration of the work
whose responsibility it is to obtain planning permission, if required
access trades will have on site
the homeowner's responsibilities
the tradesperson's responsibilities.
JCT Home Owner Contracts (opens in new tab)are downloadable PDFs so you can buy, download and start filling out a contract for your project today.
JCT is an independent organisation that represents all parts of the construction industry, and is the leading provider of standard forms of building contracts that cover most situations where building work is involved.
Homebuilding & Renovating Newsletter
Get the latest news, reviews and product advice straight to your inbox.
Thank you for signing up to Homebuilding. You will receive a verification email shortly.
There was a problem. Please refresh the page and try again.