Advertisement Feature
10 Benefits of Using a Turnkey Solution
By Sponsored Content published
If you want a home tailored to your needs, but don't want the hassle associated with running your own building project, then a turnkey solution could be right for you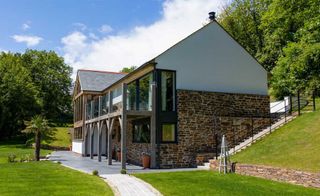 (Image credit: Complete Oak Home)
CONTENT SUPPLIED BY COMPLETE OAK HOME (opens in new tab)
So, you've always dreamt of building your own home, bespoke to you. You may not want to lay the bricks yourself, but you want a design you can actually afford to build and you'd really quite like someone to take all the hassle away, so you can enjoy the nice parts of the journey. Sounds like you might be looking for a turnkey solution!
Lots of companies use the phrase 'turnkey' and most (rather unhelpfully) have a different definition of what turnkey means. What are the options and more importantly, what type of 'turnkey' will suit you best?
Complete Oak Home (opens in new tab) has provided a list of the benefits of a turnkey solution for each step in the self build process. You can decide where you would like support and what you would like to do yourself. Once you know what you need, you can ask the right questions to see who will provide your perfect solution.
1. They are experienced and can advise on costs
Will your turnkey provider advise you on initial budgeting? It's a simple question, but worth asking. Your turnkey provider should provide independent advice and help you work out if the cost of your plot plus all likely fees and the construction cost of your dream home can all be delivered within your budget and how will it compare to the final market value.
2. They can design a solution to suit you, your plot and your budget
Are you happy with an off the shelf, familiar house style? Or would you prefer a design tailored to your tastes, your lifestyle and your budget? The beauty of a bespoke design (opens in new tab) is that it will make the very best of what your plot has to offer. Every plot is unique and deserves dedicated thought.
3. They will offer cost control throughout
There are three main cost elements of any self build project; the plot, the professionals you may need and the cost of the build itself. It will take a robust appraisal of your project to establish all the potential associated costs, but it makes sense to have a good understanding of this before you start the design process.
Your cost controller should factor in all the possible costs of the build, not just the house itself, from groundworks to finishes, but all the things you will need from driveways to utilities and renewables. Not everything needs to be or can be specified at the outset, but there should at least be allowance in the budget for the things you need.
4. They can offer independent design and cost advice
In an ideal world, you want an expert who can advise you on design choices and budgets, without them having a vested interest in the products you choose or the final cost of your build.
5. They'll act as project manager
Each project has its different needs, but the list of professionals who may be required for your project is longer than you might at first think.
An architect, structural engineer and energy consultant are a definite for most projects
Depending on planning requirements, you may need an ecologist, arboriculturist, land surveyor, archaeologist, landscape architect or a planning consultant
Depending on your procurement route (self build, design and build, turnkey, turnkey builder), you may also need a QS, a project manager or a contract administrator.
Working out who you need and when, getting them briefed properly to get the right service at the right time is a master class in itself. Finding a turnkey provider that is willing to appoint all the professionals you need will give you one point of contact and one point of liability (and a lot less headaches).
6. They will help you get planning permission
Even if your circumstances mean a relatively straight forward planning application for a replacement dwelling, you still want to make the most of your plot and ensure that you don't waste time and money applying for something that won't gain planning permission (opens in new tab). This isn't just about design, its about making sure all planning issues are addressed in your application.
Your turnkey provider should be able to guide your plans through this process for a successful outcome.
7. They can produce all the technical drawings you need
Having a detailed set of drawings means everyone knows exactly what is expected of them and means your builder can provide accurate costs before you start building. You will also need the technical drawings in order to obtain Building Regulations approval.
A turnkey provider can provide all of these for you, meaning you don't need to worry
8. They can find the best builder for your project
Do you want to manage a range of subcontractors? Would you prefer to manage a tender process or do you want an independent expert to find a builder and negotiate the price for you?
There are many ways through the construction phase, the right route for you will depend on how much you want to be involved in the process and how much cost certainty you would like at the outset. Cost certainty may come at the expense of design and quality unless the goals are clearly defined.
If you want a hands-off approach, then turnkey is definitely the option for you.
9. You can get a fixed price and agree a specification
This is where it pays to have done the hard work up front, with a fixed price and an agreed specification that comes along with using a turnkey provider. It simply needs an independent contract administrator to make sure the work is completed satisfactorily before each payment.
10. They'll be with you every step of the way
Choosing a turnkey partner who will be with you every step of the way means they have a great level of accountability and you have a greater level of confidence.
Remember, not all turnkey solutions are the same, and every self-builder will have their own list of what will make an ideal turnkey solution.
Complete Oak Home (opens in new tab) offers a unique turnkey approach to help clients build their dream bespoke homes without the hassle or stress of managing it themselves.
For more information on finding a turnkey provider, contact Complete Oak Home.
Homebuilding & Renovating Newsletter
Get the latest news, reviews and product advice straight to your inbox.
Thank you for signing up to Homebuilding. You will receive a verification email shortly.
There was a problem. Please refresh the page and try again.