Advertisement Feature
4 Reasons Why Ground Source Heating Will Future-proof Your Home
By Sponsored Content published
Switching to low carbon ground source heat pumps now could save you money for years to come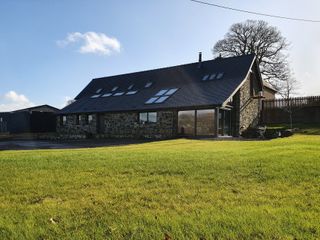 (Image credit: Kensa Heat Pumps)
Content supplied by Kensa Heat Pumps
The Government has committed to reducing the UK's carbon emissions to net-zero by 2050. As a significant proportion of all carbon emissions come from heating domestic homes, a Future Homes Standard (opens in new tab) will be introduced in 2025. This means that - in the not-too-distant future - homebuilders will no longer be allowed to install gas boilers, instead they will be required to fit low carbon heating in all new-builds.
Those currently looking either to replace their heating system as part of a renovation, or put one into a new build project, face a decision; whether to switch from fossil fuels to a low-carbon alternative, such as ground source heat pumps (GSHPs), sooner rather than later.
Here are four reasons why going green with ground source now can lead to immediate and long-term money-saving and environmental benefits.
1. GSHPs are electrically-powered, non-combustion devices
A ground source heat pump (opens in new tab) uses underground pipework to extract low-temperature solar energy from ground or water sources. It then compresses and upgrades this energy to a higher temperature when heating and hot water is needed in the home. The heat pump does not produce point-of-use emissions, helping to reduce a household's carbon footprint.
The temperature 1-2m below the surface remains constant, and solar energy is regularly replenished by sunshine - or even rainfall. This means a ground source heat pump can provide sustainable heating and hot water all year round, despite changes in the outside air temperature.
As more renewable energy inevitably comes onto the electricity grid, the price of electricity is set to decrease, lowering the running costs of electrically powered devices like ground source heat pumps.
2. GSHPs offer low lifetime costs & generous financial returns
Like many renewable heating technologies, installing a ground source heat pump requires a capital outlay that is significantly higher than a gas boiler.
However, this is balanced by the low lifetime costs. An average boiler will need replacing every 10-15 years, whereas ground source heat pumps will typically last 25 years and do not require annual servicing. The ground array pipework used to extract the solar energy will last for 100 years, so installing this infrastructure is a one-off cost for the homeowner.
The initial investment in a ground source system is offset further by the generous government funding schemes available.
Find out more (opens in new tab) about how much a ground source heat pump costs, and what you could earn and save.
3. GSHPs are efficient & self-sufficient
Ground source heat pumps achieve higher efficiencies than any other heating system, producing 3 to 4 kilowatts (kW) of heat for every 1kW of electricity they use. While modern condensing boilers can be over 90% efficient, a ground source heat pump can achieve efficiencies of 400%.
With an impressive A++ rating in energy efficiency, the Evo (opens in new tab) is the most efficient ground source heat pump in Kensa's product range. It also features a dedicated controller with intelligent touch-screen controls that keep track of performance and system efficiencies. These high efficiencies help secure homeowners the lowest running costs and highest income available from government funding schemes.
4. GSHPs can 'load shift' to save money & carbon
A ground source heat pump can shift its consumption to the times of day when electricity is at its cheapest and there is lower carbon; this is called 'load shifting'. Load shifting saves money for homeowners and helps to reduce carbon emissions even further. Battery storage, flexible tariffs and smart controls make this possible.
No other technology can participate in load shifting like ground source heat pumps. They are quiet enough to be installed anywhere within the home, and can be run at any time of day or night when electricity is at its lowest cost or carbon. The ground or water from which the solar energy is extracted are unlimited heat sources that can be constantly recharged, and therefore fully sustainable.
About Kensa Heat Pumps:
Kensa Heat Pumps (opens in new tab) is the UK's only manufacturer of ground source heat pumps and is the long-established market leader.
Kensa pioneered the adoption of heat pump technology (opens in new tab) in the UK, and has been manufacturing award-winning ground source heat pumps (opens in new tab) and accessories from the heart of Cornwall since 1999.
Homebuilding & Renovating Newsletter
Get the latest news, reviews and product advice straight to your inbox.
Thank you for signing up to Homebuilding. You will receive a verification email shortly.
There was a problem. Please refresh the page and try again.