Government Challenged to Boost Affordable Housing by New Working Group
By Jack Woodfield published
SME builders are pivotal to affordable housing targets, new working group Housing Diversification says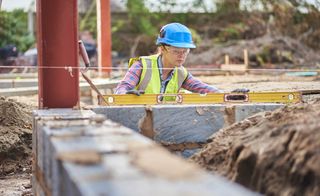 (Image credit: Getty Images)
The government has been challenged to increase affordable housing by a new working group, and to unlock 130,000 homes over the next five years.
Housing Diversification is an umbrella group which has been set up by the National Custom and Self Build Association (NaCSBA), the Federation of Master Builders (FMB), the UK Cohousing Network and the National Community Land Trust Network.
The group's message is clear: the housing sector needs diversity so it can "Build Back Better", and it is calling for more support for the self build industry and for small to medium-sized (SME) builders.
The group has urged ministers to begin substantive action to help people build homes they can afford. The proposals include:
The creation of a new government task force to examine the issues that inhibit housing growth
Government commitment to a five-year renewal of the Community Housing Fund (which had promised to deliver up to 100,000 new homes in England, but was not renewed in the Spring Budget)
Creating a robust and statutory system of reporting on diversification as part of Government housing statistics.
The group says that increasing the number of SME builders who deliver homes will make it easier for the government to meet its target of delivering 300,000 affordable homes per year. Almost a third of new homes in the UK are built by only five companies, such as volume house builders Barratt Homes and Persimmon.
The SME sector currently builds 20,000 homes per year, but according to data cited by Housing Diversification, the sector could deliver up to 130,000 new homes by 2025.
Andrew Baddeley-Chappell, CEO of NaCSBA and spokesperson for the group said: "Despite the importance of houses to our lives and the scale of their cost, there is currently too little choice when it comes to new homes in this country.
"We have come together as Housing Diversification to deliver more passion, quality, and care into the new homes and the new communities that we, as a nation, need to be creating. Just like any other market, increasing diversification will improve quality, innovation, and value. We will deliver homes more people want to live in and that more welcome being built."
(MORE: Government's Affordable Housing Pledge Criticised by CPRE)
SME Builders Hold the Key to Affordable Housing
The FMB has warned that the Covid-19 pandemic and the UK entering recession will put pressure on SME builders, and states that government support for the sector is vital.
Brian Berry, chief executive of the FMB, said: "The coronavirus has shone a light on this country's need for more spacious, good quality, and affordable homes. We are never going to meet this demand without greater support for diversification in the housing market, and small to medium-sized (SME) house builders hold the key to building faster and building better.
"SMEs typically build on small and infill sites in existing communities, helping them to grow at a sustainable rate and with greater levels of local consent. Research by the FMB shows that consumers are twice as likely to be 'very satisfied' with the quality of their new build home if it's built by a small builder."
NaCSBA reports that custom and self build delivers 14,000 homes annually - and roughly 50% of SME house builder output is custom and self build - but this could rise to 73,500 homes per year by 2025 if the government supports the new Housing Diversification proposals.
Jack has worked in journalism for 11 years and is the News Editor for Homebuilding & Renovating, a role he has had since 2019. He strives to break the most relevant and beneficial stories for self builders, extenders and renovators, including the latest news on the construction materials shortage and hydrogen heating. In 2021 he appeared on BBC's The World at One to discuss the government's planning reforms.
He enjoys testing new tools and gadgets, and having bought his first home in 2013, he has renovated every room and recently finished a garden renovation.
Homebuilding & Renovating Newsletter
Get the latest news, reviews and product advice straight to your inbox.
Thank you for signing up to Homebuilding. You will receive a verification email shortly.
There was a problem. Please refresh the page and try again.