Advertisement Feature
What Equipment do I Need for my Landscaping Project?
By Sponsored Content published
Need to clear an overgrown or neglected garden before starting on your landscaping? This is the equipment you'll need to make the job quick and easy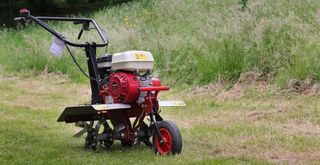 (Image credit: Brandon Hire Station)
Gardening can be a pretty demanding job, but especially if you're just at the start of a new landscaping project. With trees to clear, earth to move and hardcore to deal with for new patios or driveways, having the right equipment to hand is important.
Thankfully, hiring these tools is easy enough with Brandon Hire Station offering same and next day delivery on rentals. But what exactly do you need to clear a garden effectively? We break it down…
Equipment for Clearing the Garden
Let's start with clearing the garden. Trees can be tricky to dispose of, but a wood chipper is a great place to start. They're ideal for clearing bush and tree clippings into small wood chips which make them far easier to remove from your garden.
The most efficient way to remove tree stumps is to use a stump grinder, however, be aware that it does leave the tree's roots behind. A stump grinder creates large wood chips which can potentially be used as mulch for your garden. For large logs, a log splitter is ideal.
When it comes to dealing with overgrown grass and vegetation, you have a few options open to you. A heavy duty petrol driven lawn mower that can cut thick grass quickly and easily and is perfect for large lawns, while a strimmer is best used for areas of long grass and weeds where a lawn mower can't reach. This includes boundaries and around trees. They're also great for areas of thicker, rougher vegetation.
Equipment for Lawns and Soil
Creating a new lawn is probably high on your agenda for your new garden, so let's start there. If you're removing existing turf to re-lay, or to create a flower bed or veg patch, a turf cutter should be your go-to tool.
If looking to improve the existing lawn, try a lawn aerator. This tool improves the health of the grass by getting nutrients into the soil.
For flower beds or vegetable patches in your garden, a rotavator or tiller is a great way to improve your soil health by turning it over.
Equipment for Hard Landscaping
Installing a new fence or replacing old, failing fence posts is a big job, but one that's made much easier with a post hole borer. This can create a large hole ready for cement to be poured and your new fence post inserted, if that's the method you're using.
While you might not need a cement mixer for putting up a fence, this will be essential for other hard landscaping projects, including patios, walls, block raised beds and driveways. A wacker plate will also be needed to compact hardcore to make a suitable base for laying these hard landscaping elements.
Homebuilding & Renovating Newsletter
Get the latest news, reviews and product advice straight to your inbox.
Thank you for signing up to Homebuilding. You will receive a verification email shortly.
There was a problem. Please refresh the page and try again.