Advertisement Feature
Should I Open a Self Build Account for my Project?
By Sponsored Content published
When it comes to getting the right materials in the right quantities, a supplier experienced in the self build market is the key to success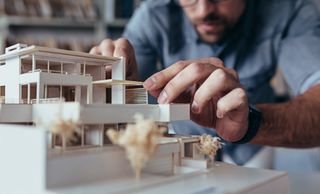 (Image credit: Shutterstock)
[Content supplied by Jewson]
Building a house takes a lot of materials. For a self builder, especially if it's your first time, having a guiding hand to help you choose these materials, estimate costs and figure out the logistics.
While you may have the help of your builder, or even a project manager running the build, choosing a supplier with experience in and a support system for self builds can be a vital resource for your project.
Opening a self build account with a supplier like Jewson (opens in new tab) has a range of benefits, and we're going to explore what Jewson's self build account in particular has to offer.
Self Build Guidance From Experts
Jewson have been helping self builders for years, and have built up a lot of expertise that can be found both in-branch, and through their website. When you open a self build account, you'll benefit from dedicated support from your local branch for each stage of the build process when it comes to the materials you'll be using. Their self build project expertise (opens in new tab) can help you save time, build efficiently and reduce the potential risks of a self build project.
You'll also have an account manager throughout the build on hand to help with any questions about materials, arrange their delivery and also help you with tool hire.
Project Estimating
Estimating the cost of your build can be one of the hardest things to pinpoint, as well as one of the most challenging if you get it wrong. As part of their self build project advice, Jewson can offer help in calculating exactly what products are required, as well as when they need to be on site. They can also help you to estimate the total cost for the build including; materials, plant hire and labour.
Other Perks
A self build account with Jewson also means you have access to a range of other services. This includes:
A team of in house SAP assessors that can complete SAP calculations for your project.
Access to the Better Homes product range, which offers energy efficient and eco-friendly build products, from solar PV to mechanical ventilation.
Access to tool hire services and timber mills.
Money Matters
A self build account from Jewson will mean you have access to personalised trade prices, helping you to keep the cost of materials as low as possible.
You'll also have access to credit of up-to £20,000 for your build — a useful perk when managing your build's cash flow while ensuring your contractors have what they need, when they need it.
Homebuilding & Renovating Newsletter
Get the latest news, reviews and product advice straight to your inbox.
Thank you for signing up to Homebuilding. You will receive a verification email shortly.
There was a problem. Please refresh the page and try again.