Advertisement Feature
3 Reasons to Choose a Pellet Stove
By Sponsored Content published
Is a pellet stove the right choice for heating your home? Here are three reasons this option might be right for you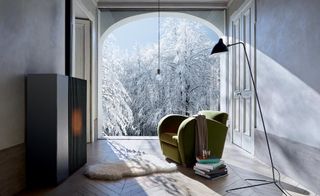 (Image credit: Specflue)
CONTENT SUPPLIED BY SPECFLUE
Other European countries have widely adopted pellet stoves (in France, pellet stove installations are equal to the installation of woodburners) but so far, the UK has lagged behind. But with legislation regarding the banning of certain fuels coming into force, and the increasing interest in homeowners eco-conscience, there is an ideal opportunity to consider new heat sources, such as a pellet stove, for your home.
Here are three reasons a pellet stove is worth considering for your home.
1. Emissions and Efficiency
The popularity of woodburning stoves and biomass boilers for home heating, and the associated burning of solid fuels, have an understandable impact on air quality. The Government's Clean Air Strategy and Ecodesign 2022 regulations set out tough emissions standards that all stoves need to meet regardless of where they are installed. Pellet stoves offer lower emissions than Ecodesign-accredited woodburning stove alternatives, making them a suitable choice for those wanting to future proof their home heating.
Some pellet stoves are available with A to A++ energy efficiency ratings and certain models incorporate technology that means they are even suitable for use in a Passivhaus.
If fuel and cost-efficiency is high on your agenda, choose a model with a sensor inside that stove that helps to regulate the combustion air according to the amount of pellets in the burn pot. This, in turn, means lower fuel consumption, lower emissions and less frequent cleaning.
2. Operation and Maintenance
When it comes to using a pellet stove, there are numerous benefits. Firstly, compressed wood pellets are easier to store (and take up less space) than the equivalent kW output of logs, which can be highly desirable in homes where space is at a premium.
If you are looking for easy and efficient operation, choose a pellet stove model that can be controlled remotely via an app on a smart phone (or text message). Look out for models that offer separate room thermostats, this will ensure that a room does not overheat or experience uncomfortable temperature fluctuations. Using the app to control the heat production as and when you need it will help to keep fuel bills low.
Many pellet stoves require little regular maintenance, be it emptying the ash on a weekly basis or refilling the internal hopper every two to three days.
When it comes to installation, make sure your pellet stove is installed by a HETAS-registered installer.
3. Appearance
Pellet stoves offer an attractive and stylish focal point for a room, and are suited to both contemporary and traditional style interiors.
Slimline models are available for smaller spaces, and the stoves can be specified in a choice of colours or claddings, including stone, ceramic and metal.
For more information on MCZ pellet stoves, contact Specflue (opens in new tab). Specflue has a nationwide HETAS-registered supplier network that can install pellet appliances.
Homebuilding & Renovating Newsletter
Get the latest news, reviews and product advice straight to your inbox.
Thank you for signing up to Homebuilding. You will receive a verification email shortly.
There was a problem. Please refresh the page and try again.