Advertisement Feature
4 Reasons You Should Use a Contract in Your Major Home Improvement Project
By Sponsored Content published
A contract can provide peace of mind throughout significant works and help you to manage your project effectively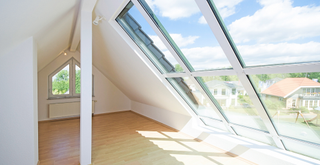 (Image credit: Adobe Stock)
Content supplied by JCT Home Owner Contracts
Whether you are renovating a whole house or taking on a significant building project like adding an extension, it is undoubtedly an exciting but expensive time.
To protect that investment and ensure your project runs smoothly, it can be useful to have a contract with the tradespeople working on your home. A contract ensures that everyone is on the same page when it comes to the details of the work and when and how payment is due.
Here are four other great reasons you should use a contract:
1. It Will Help You Manage the Project
Using a contract to be crystal clear with your tradespeople about the scope of work as well as cost and payment terms can be invaluable when it comes to managing a building project. It gives all involved a detailed understanding of expectations and responsibilities for both you, as the homeowner, and your tradesperson, and can easily be referred back to if necessary.
2. It Will Give You Peace of Mind
Renovation works can be complex and occasionally there is a chance that something could go wrong. It can help to have contingency plans and responsibilities listed in a contract to help resolve any issues quickly and smoothly.
3. It Can Help to Avoid Misunderstandings with Your Tradespeople
In the unlikely event of a disagreement with your trades, having a contract you can both refer back to can help you to solve any disputes quickly and peacefully, or even avoid them altogether.
4. They Can Be Drawn Up Without the Need for a Solicitor
JCT Home Owner contracts are recognised within the building industry and can be easily downloaded ready for use. The contracts are easy to follow and avoid the use of technical jargon, meaning you don't need to pay for a solicitor to draw up the contract for you.
What Should the Contract Cover?
The scope of the work
The price and payment schedule
Expected duration of the project
The homeowner's responsibilities
The tradesperson's responsibilities
JCT Home Owner Contracts (opens in new tab)are downloadable PDFs so you can buy, download and start filling out a contract for your project today.
Homebuilding & Renovating Newsletter
Get the latest news, reviews and product advice straight to your inbox.
Thank you for signing up to Homebuilding. You will receive a verification email shortly.
There was a problem. Please refresh the page and try again.