Advertisement Feature
Starting the Dream
By Sponsored Content published
If you are hunting for a plot, don't despair. There's the perfect spot out there for you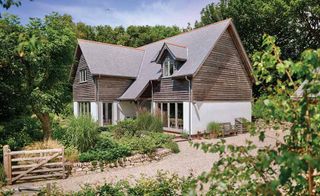 (Image credit: c/o Oakwrights/Mark Welsh)
CONTENT SUPPLIED BY OAKWRIGHTS
One of the most common questions the team at Oakwrights are asked is: "How do I find my perfect plot?" Unfortunately there is no straightforward answer to this, other than a lot of research and perseverance.
The general perception is that we are a small overcrowded island with little land available, but in fact this isn't the case — which is great for self-builders.
However, land suitable for development can be hard to find. Sometimes more creative thinking is required, for instance buying a plot with a view to demolishing and replacing the existing building, or building on an infill site created from sub-divided gardens.
Where Do I Begin?
There are several avenues to explore when looking for a plot. These include investigating national land databases which, for a fee, allow you access to a list of plots. However we wouldn't advise you to solely rely on these, as good plots often don't reach the open market.
If you can narrow down your search area, we recommend making locals aware that you are looking for a plot. As daunting as it may be, don't be afraid to knock on a stranger's door to ask whether they would consider selling part of their garden!
Local press, auctions and estate agents are also good sources of information, but remember to keep pestering the estate agents, as they could hold the key to your perfect plot.
The one common theme that we hear from our clients about finding their perfect plot is how determined they had to be. So don't get discouraged, it is estimated that between 18,000 and 25,000 single self-builds take place every year so your plot is out there.
Perseverance Pays Off
Lesley and David had lived in a new house for nine years when they decided it was time to self-build. They sold their house and spent two years in a campervan ensuring they were ready to relocate when a plot became available.
They took out subscriptions to plotfinding websites, but it was their persistent niggling of estate agents that finally found them their perfect plot.
"We found a plot but the agent advised us it was controversial because a developer had illegally removed some trees, which resulted in tree preservation orders and restrictions being put on the site limiting where we could build," explains Lesley.
"Fortunately the owner of the plot agreed to allow us six months to try and secure planning before the sale was completed." Lesley and David secured planning and moved in to their beautifully designed barn-style home.
If you are embarking on your self build journey and would like further information on how Oakwrights (opens in new tab) can help, email enquiries@oakwrights.co.uk or call 01432 353353.
Homebuilding & Renovating Newsletter
Get the latest news, reviews and product advice straight to your inbox.
Thank you for signing up to Homebuilding. You will receive a verification email shortly.
There was a problem. Please refresh the page and try again.