Site Insurance and Structural Warranties Jargon Explained
By Sponsored Content published
Technical jargon in your site insurance policy can make it difficult to know exactly what you are covered for. Here we explain the pertinent points in your policy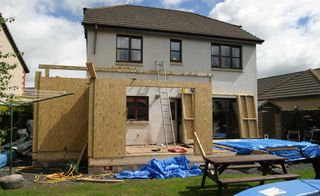 (Image credit: iStock)
CONTENT SUPPLIED BY SELF-BUILD ZONE
If you plan on carrying out any kind of construction work on your home, whether you are building from scratch, renovating or extending, then you will need to not only be aware of site insurance and structural warranties, but also know when you need them and to what extent you are covered.
It's important to have public liability cover in place from the moment you own the site as you could be liable if someone injures themselves on your land. As soon as works begin it's crucial to have site insurance to cover you and those you employ while clearing the site, installing services or starting construction.
Policies range in length from 3-24 months and will end at the date of Building Control sign off or at the natural expiration of the policy.
You will need to understand the technical terminology found in such policies to ensure you are effectively covered throughout your project. Here, we explain the specifics.
What is an 'All Risks' Site Insurance Policy?
This is a specialist policy that covers construction projects ranging from new build properties, extensions, internal renovations or even conversions of former agricultural/industrial buildings into dwellings.
This kind of policy predominantly covers physical perils to the structure, such as:
fire
vandalism
malicious damage
storm damage.
As the employer on a homebuilding or improvement project, this policy will cover your workers, the land and all materials due to be used in the project.
Covering Workers, Accidents and Legal Fees
These are major aspects of the policy. Public Liability covers third party individuals or property, while Employers Liability covers the risk of your workers submitting claims for illness or injury whilst on the site.
Personal accident cover is also included in the event that you or anyone else named on the policy are injured during the course of the build.
Legal expenses cover should be provided as part of the policy and is designed to help pay towards the cost of any contractual dispute you may have with your builder, architect or engineer. Additional levels of cover can be obtained for plant, tools and equipment as well as any caravans or site huts you may have for the project, whether you own them or are hiring them.
What is the Difference Between Site Insurance and a Structural Warranty?
While site insurance covers the project during the construction phase, the structural warranty policy is designed to cover the reinstatement or partial reinstatement of the property and can be transferred to all future owners (if sold within a 10-year period).
The warranty provides cover for major damage as a result of defective design, workmanship and materials, and the policy only begins once the property has received a Building Control Completion Certificate.
There are two routes through which the structural warranty operates:
the Technical Audit process whereby an approved inspectors carries out surveys at key construction stages solely for the purpose of issuing the warranty (Building Control is arranged with another provider)
the Building Control process in which an approved inspector carries out the Building Control instead of the Local Authority, therefore combining both sets of required inspections and thus issuing the Building Control Completion Certificate and Warranty Certificate at the end of the project.
It is worth noting that the longer you withhold from purchasing the structural warranty, the more expensive it will become.
In today's climate, a structural warranty is often required by mortgage lenders in order for them to lend against a self build project, so it is very important to check that they accept the warranty provider you have chosen.
The UK Finance Initiative has a comprehensive list of approved structural warranty providers.
For more information on securing the right kind of cover for your self build, renovation or extension project, contact Self Build Zone (opens in new tab).
Homebuilding & Renovating Newsletter
Get the latest news, reviews and product advice straight to your inbox.
Thank you for signing up to Homebuilding. You will receive a verification email shortly.
There was a problem. Please refresh the page and try again.