Advertisement Feature
Building for the Future
By Sponsored Content published
Increasingly favoured by architects and self-builders for its speed, build quality and energy efficiency, the structural timber route is here to stay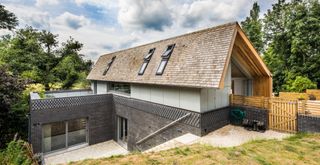 (Image credit: Structural Timber Association)
Content supplied by the Structural Timber Association
Choosing your build route is an important decision — up there with choosing the right plot and making the right design choices. This short guide from the Structural Timber Association will guide you through the design, project planning and building stages of building with structural timber.
Design Options
Structural timber frames, whether SIPs, glulam, CLT or timber frame, lend themselves beautifully to extensions and self-builds, across the full range of design and cladding options. Whether you're keen on dramatic double height walls, curved structures (glulam and CLT score highly here) or more traditional designs, this build route will deliver. And with the slim profile of the timber frame, it's ideal for smaller projects where every millimetre counts.
Timber frame can even be used on restricted sites where access is tight as the panels can be designed to suit as everything is manufactured bespoke and then you have far less disruption on deliveries etc for the neighbours because of the overall speed benefit. Be aware, though, if your site is quite tight, a pre-fabricated timber frame may not be for you as it may be difficult or expensive (or both) to bring the frame onto site.
Choosing the Right Supplier
We recommend that any structural timber supplier on your shortlist is accredited via our STA Assure Scheme, all our members must meet or exceed current legislation and requirements. It's then up to you to decide whether you want to commission a full turnkey project or take a more hands-on approach where you fit out the shell yourself.
Finding a mortgage and insurance for your structural timber project should be straightforward, too, as self build and high street mortgage lenders consider this a mainstream build route and will happily lend on it.
Building Begins
Now you can really start to reap the benefits of off-site manufacture. You won't find the project held up by bad weather or unexpected problems with tolerances or specifications, as the frame of your home or extension is precision-manufactured under factory conditions. Once fabricated, the frame of your new home will be assembled on site within days — and your moving in date is in sight!
To find a member of our STA Assure Scheme in your area, visit the Structural Timber Association website (opens in new tab).
Homebuilding & Renovating Newsletter
Get the latest news, reviews and product advice straight to your inbox.
Thank you for signing up to Homebuilding. You will receive a verification email shortly.
There was a problem. Please refresh the page and try again.