Permitted Development Rights Legal Challenge Rejected - What This Means for Extenders
This ruling means that, under Permitted Development, extenders can push ahead with extending up by two storeys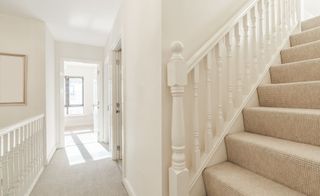 (Image credit: Getty Images)
A legal challenge to new Permitted Development rights has been rejected, and while the campaigners behind the challenge plan to appeal, the decision means that the new rights announced in the summer will go forward. 
On Tuesday, the High Court dismissed the claims by independent campaigning group Rights: Community: Action (RCA) that the new Permitted Development rights would have a detrimental environmental impact.
The new rights permit two-storey upwards extensions on homes, although they will require prior approval, and for developers to be given the right to demolish commercial and residential buildings and rebuild them as homes. 
Responding to the decision, RCA said: "The Judges have now made their decision and we have lost the case. We fully respect the legal process, but we firmly believe that there are grounds to appeal.
"With this judgment, public interest planning is over in England. But the stakes are too high for people's health and well-being in relation to living in poor housing – this is a case that must be appealed."
Permitted Development Impact on Extenders
Homeowners looking to extend up can now do so under Permitted Development, providing more space for growing families without having to move house. 
The new rights, which were announced in July and came into effect in August, allow homeowners of detached, semi-detached or a terraced house to extend upwards, providing all additional storeys are built on the principal part of the home, and providing prior approval was obtained. 
But the regulations have received criticism for the potentially detrimental aesthetic impact extending upwards may cause, which was a key argument in RCA's legal challenge. 
(MORE: What extenders need to know about the new PD rights)
Why Did RCA Launch the Legal Challenge?
Prior to the rights extending, RCA pushed for an immediate high court order to suspend the new rights because of the potentially significant environmental consequences of the reforms.
RCA said that "that there had been no environmental assessment and no proper consideration of the impact on those most disadvantaged, and a failure to keep a promise to consult beforehand."
During the two-day hearing on 14-15 October, RCA issued a two-fold claim challenging the government for:
Failing to undertake environmental or equalities assessments before announcing the new rights
Not properly consulting parliament before making the rules. 
Regarding point one, RCA claimed that by pressing ahead with the reforms, housing secretary Robert Jenrick breached UK diversity legislation, EU environmental law and established principles of dealing with consultations.
The second point referred to the timing of the new measures. The government introduced the regulations on the last day that parliament sat before summer recess, then actioned the regulations to come into effect the day before parliament reconvened. Parliament therefore had no opportunity to scrutinise the measures. 
"There has been no proper scrutiny of them by our elected body. But nor have they been subject to the proper processes of assessment and public consultation that should accompany such radical legislation," RCA said. 
Judges dismiss challenge to laws that risk slum housing for the poorest amongst us because of pandemic. Couldn't we be doing this differently? Surely we're better than this. https://t.co/XiiAYPaov8November 17, 2020
Why the Permitted Development Challenge Was Rejected
The High Court ruled that Mr Jenrick had produced equality impact assessments to how the new rights would affect towns and cities.
Moreover, Mr Jenrick was ruled to have done enough in respect of the Building Better, Building Beautiful Commission Living in Beauty report, published earlier this year, that he did not have to conscientiously consider reports from consultation responses on the impact of Permitted Development rights changes earlier this year. 
What Happens Next?
RCA will seek permission to appeal, and believes it has valid grounds to challenge the verdict.
Naomi Luhde-Thompson for Rights: Community: Action, said: "We believe these changes will have a phenomenally negative impact on the people and environment of towns and cities across England. That is why we are seeking permission to appeal."
Jack is News Editor of Homebuilding & Renovating and strives to break the most relevant and beneficial stories for self builders and renovators. Having bought his first home in 2013, he and his wife have renovated almost every room and recently finished a garden renovation. Jack reports on all of the latest news that could affect your project.
Homebuilding & Renovating Newsletter
Get the latest news, reviews and product advice straight to your inbox.
Thank you for signing up to Homebuilding. You will receive a verification email shortly.
There was a problem. Please refresh the page and try again.