Government's New Affordable Housing Algorithm Criticised Over Southern Growth
The government has updated its affordable housing algorithm, which could shrink housing delivery in the north of England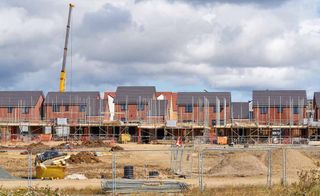 (Image credit: Getty Images)
A proposed government algorithm to increase affordable housing has come under fire from the Local Government Association (LGA), which says it could prospectively cut the amount of homes built in the north of England. 
The government is committed to hitting its target of building 300,000 affordable homes per year, and proposed in its planning reforms published in August that it would update its current methodology for meeting these targets. 
Under the new formula, councils would take account of the gap between house prices and incomes over the past 10 years, rather than the current one year.  
It would therefore appear that if an area has a wider house price to income gap over 10 years, the algorithm will conclude that more homes are required. Conversely, in areas where house price growth has slowed, fewer houses will be required. 
But councils have warned that this new algorithm, which will set how many new homes need to be built in local areas, threatens to lead to a north-south divide in affordable housing in England.
Councillor David Renard, of the LGA, said the plan "seriously jeopardises any ambition to level up the country", adding that "algorithms and formulas can never be a substitute for local knowledge and decision-making by councils and communities who know their areas best".
How Will Affordable Housing be Impacted?
An LGA analysis found that the formula would disproportionately increase growth in rural areas by 59% compared to a 20% increase in major urban areas. 
As a result, there would be a higher percentage of new homes built in the South and the Midlands, compared to current housing delivery targets, but a decrease in northern growth. 
For example, Brighton and Hove would be expected to deliver a 287% increase in housing, rising to 294% in Dover, and this scale reportedly has some councillors worried about the pressures of excessive homebuilding in their areas. 
We have raised our concerns over an updated algorithm designed by Govt which sets out how many new homes need to be built in local areas.This will result in London & the south seeing a housing boom while swathes of the north will see fewer homes built.https://t.co/AKtyKQ0mYqSeptember 15, 2020
In contrast, the proposed targets for the north-east are 28% lower than existing delivery, 8% lower in the north-west, and 6% lower in Yorkshire and Humberside. 
The algorithm has been described as a fiasco by Cllr Tom Beattie, who is vice-chair of the District Councils' Network.
"The government's planning reforms are proposing a national housebuilding fiasco based on a muddy formula cooked-up in Whitehall which rides roughshod over local housing need." he said. 
Tom Fyans, deputy chief executive of CPRE, said he feared the change would not positively impact young people in rural areas who are currently being priced out of living in their home areas. 
He said: "The centrally-imposed housing targets currently proposed by this government could lead to a large jump in new houses delivered in rural areas, but this wouldn't improve affordability and design standards and could lead to a 'build and be damned' approach."
However, a spokesperson for the Ministry of Housing, Communities and Local Government said the LGA's fears were "unfounded" and confirmed that ministers would address concerns during a consultation process.
(MORE: Planning Reforms Could Increase Low-Quality Housing, Lords Committee Warns)
Homebuilding & Renovating Newsletter
Get the latest news, expert advice and product inspiration straight to your inbox.
Thank you for signing up to Homebuilding. You will receive a verification email shortly.
There was a problem. Please refresh the page and try again.